PALO ALTO, Calif., (April 26, 2022) – S2A Modular – creator of the first electrically self-sustaining, custom and smart-connected GreenLux™ luxury residences and commercial buildings – announced the launch of the company's own line of High-Performance Photovoltaic Graphene Matrix Technology or PVGraf™ solar panels capable of generating a minimum of 20 percent more power than conventional panels through the use of proprietary technologies that increase efficiency and reduce energy losses.
Its unique design gives it added generation capabilities during low-light situations like dawn and dusk resulting in more time to generate energy. Because the PVGraf solar panels produce more energy than standard panels, most applications require less panels and less roof space to achieve needed levels of generation. This benefit means PVGraf solar panels also produce more power per square foot, have lower impacts when shaded by trees our clouds, and do not suffer the effects of microcracks which are common in non-PVGraf solar panels.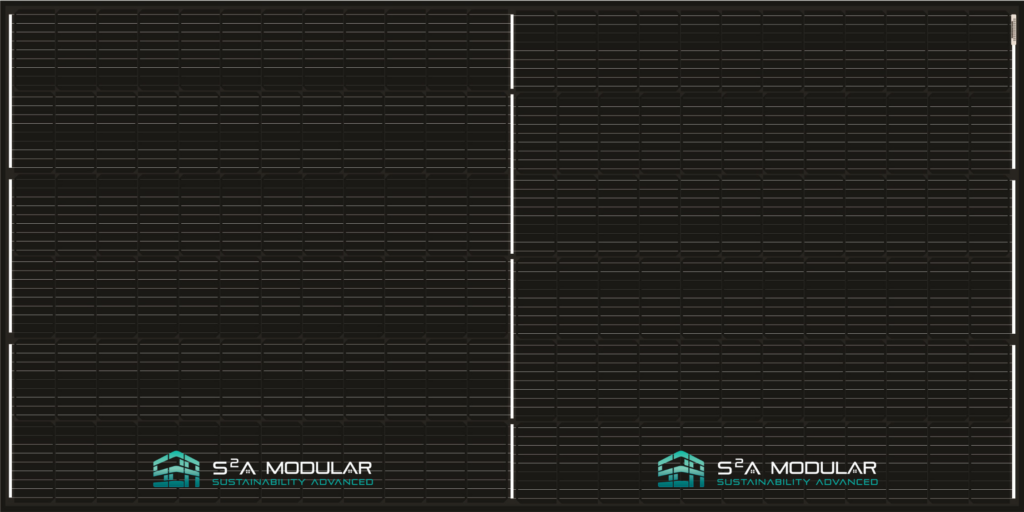 New High Efficiency Solar Panels Engineered Originally for S2A Modular GreenLux Homes and Commercial Properties Are Now Being Made Available to Solar Companies, Installers Nationwide
Another significant feature of the S2A Modular panels is its reduced rate of degradation. All solar panels degrade over time, but non-PVGraf solar panels start showing high levels of degradation after just four or five years of use. S2A's PVGraf panels only degrade by .3 percent annually so after 30 years, the panels will still operate at 91 percent efficiency after 30 years. The PVGraf panels also perform better in extreme heat and cold temperatures and have a working temperature range of -40 to 185 degrees Fahrenheit.
The High Performance PVGraf solar panels were originally designed exclusively for the company's #GreenLux homes and commercial buildings but are now being made available to solar installers and developers throughout the country. Featuring a black aluminum frame and deep black solar cells, the panels improve the aesthetic look of any solar installation.
Powerful, Strong and Durable – The Future of Solar Generation
Durable – Graphene 100-200 percent stronger than steel
Minimal Generation Loss – Less than .3 percent power loss per year
Extremely Low Electrical Resistance
Consistent performance in shade and cloud cover
Wide working temperature range of -40° to 185°F
30-Year Warranty
John Rowland, President and Co-Founder of S2A Modular
"When Brian and I founded S2A Modular, we knew game-changing technologies would be pivotal to our success, which is why I'm extremely excited to announce our all new, High-Performance PVGraf Solar panels. We worked with leading electrical engineers to develop a design that would not only outperform all current technologies but would provide the necessary endurance and performance needed for our #GreenLuxHomes. We made a significant investment into this technology, and we are excited to have the opportunity to share it with other installers and developers. We are very confident our High Performance PVGraf Solar Panels will have a remarkable impact on the solar industry and are honored to bring our products to the larger solar industry."
High Performance PVGraf solar panels are now available for order by licensed, professional solar installers and developers. For more information about purchasing S2A Modular High Performance PVGraf solar panels, contact solar@s2amodular.com.
To speak with an S2A executive, please contact S2AModular@godriven360.com or call 310-374-6177.
About S2A Modular
The Future Is Here. Introducing the #GreenLuxHome.
The first electrically self-sustaining, custom luxury homes are changing the way the world understands residential buildings – creating a new standard in stylish design, construction speed, tailor-made features with high-end materials, "surplus energy income" (Net Zero), superior hemp-based sustainable building materials and smart-connected living. From constructing the latest in patented graphene solar panel-charged designer homes, full communities, commercial buildings to world-class hotels, the stunning S2A MegaFactory is a one-of-a-kind manufacturing center, producing impeccable structures that usher in a new era in better building and living. No more energy bills. Faster construction. Immediately higher home value compared with traditional "site-built" structures. #GreenLuxSavesBucks. Visit www.S2AModular.com and join the #GreenLuxHome revolution on Facebook, Twitter, Instagram, and Pinterest.
###