S2A levels up its smart-connected home tech for luxury residences and commercial buildings with iLamp, the next-generation smart streetlight from Conflow Power Group. The solar-powered iLamp is packed with security, charging, communications features and uses surplus energy to generate revenue for S2A Modular homeowners, businesses and planned developments.
Imagine a solar-powered street lamp that generates enough power to light your street and charge your e-bike or scooter. It can use its onboard power generation to run systems that track severe weather, assist emergency response, enable Wi-Fi and other wireless communications – a wide variety of technologies that can work both on and off the grid. What began as a necessary but dull part of municipal infrastructure, the streetlight is becoming an exciting piece of tech that could improve community well-being and help people feel safer.
Beyond offering smart-city services, smart streetlights can significantly reduce energy consumption. According to the Northeast Group, a smart cities market intelligence firm, street lighting can be up to 40% of a city's energy bill. That's one of the reasons cities from Los Angeles to Atlanta have been replacing traditional street lights with LEDs – and soon with lights that can optimize output and generate their own power like the iLamp.
S2A Modular, with its roots in sustainable living and green construction, is giving customers direct access to iLamps for use in residential communities, commercial businesses, planned developments, and municipalities. Not only is each iLamp packed with amazing technologies designed to improve quality of life, the excess electricity generated by iLamps is sold back to the grid resulting in added revenue for owners.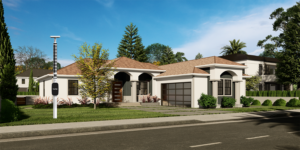 What is a smart streetlight?
A smart streetlight is a light pole or fixture in a public or residential area that utilizes different technologies to perform specific functions. They might use sensors, transmitters, or cameras to adapt light levels, monitor traffic, or host public Wi-Fi hotspots, among other things. Smart streetlights have been hailed as the future of the smart city. They transform what was an overlooked, passive piece of infrastructure into a feature-rich asset capable of offering much more than lighting – and in the case of iLamp, a self-sustaining, net-positive source of renewable power.
What are the benefits of iLamp?
Automatic Lighting – Lights turn on and off when necessary saving energy and extending product life
Uses Renewable Energy – Powered by high-performance solar-panels
Power Storage – Onboard power generation & storage allows for both on-and-off-grid installations
Security Features – 360-degree live security cameras offer real-time video for law enforcement
Public Safety – Gunshot detection technologies send immediate notifications to law enforcement agencies speeding response times to gunshots
Weather Tracking – Built-in weather and air quality sensors helps track critical environmental conditions in real time
Connectivity – Wi-Fi hotspot and cellular communications capabilities
Battery Charging – Charging for small mobility electric vehicles and personal devices like cell phones and tablets
Docking Station – Drone guidance and charging capabilities
Net Positive – Residual income through surplus power generation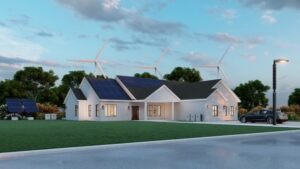 Looking to future-proof your next development or community?
S2A Modular is at the forefront of emerging smart-home tech and self-sustaining residential and commercial construction. With connected digital infrastructure increasingly in demand, cities are expected to invest $8.2 billion in intelligent streetlights over the next ten years. The humble streetlight is transforming into the future of the smart city, and S2A Modular's partnership with iLamp is ahead of the curve.
Please contact us at S2amodular.com/contact to learn how to integrate iLamp into your next project.