S2A Modular Breaks Ground on Northern Florida MegaFactory Bringing Jobs, Economic Impact, Affordable Housing to Baker County
S2A MegaFactory set to generate more than $140M in economic impact for the City of Macclenny and Baker County when fully operational
Set to open in Q4 2022, MegaFactory construction scheduled to take six months and will include support from local contractors
State-of-the-art facility will manufacture revolutionary GreenLux™ luxury smart residences, smart commercial buildings, hotels, multifamily units, accessory units and more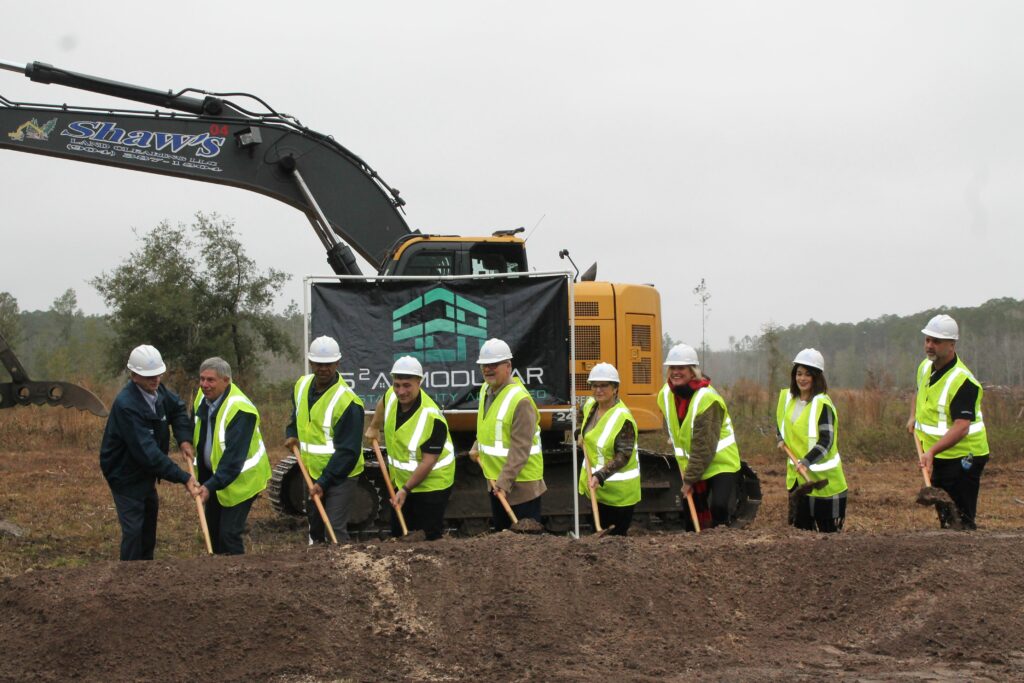 MACCLENNY, Fla., (Jan 21, 2021) –S2A Modular – creator of the first electrically self-sustaining, custom and smart-connected GreenLux™ luxury residences and commercial buildings –officially broke ground today at its Northern Florida MegaFactory site in a private ceremony with officials from Baker County, City of Macclenny and S2A Modular. The new MegaFactory is scheduled to take approximately six months to build and is expected to be fully operational by Q4, 2022. Expected to generate more than $80 million of economic impact to the region – and an additional $60 million in secondary impact – the S2A MegaFactory's is expected to have a major impact within the region. Approximately 250 new jobs will be created once the MegaFactory reaches full capacity.
The MegaFactory which encompasses several different buildings will feature two complete factory lines, five model homes, a show room and two buildings dedicated to manufacturing building materials when completed. Built using proprietary technologies, the MegaFactory runs entirely on sustainable energy with the help of Tesla's commercial-grade battery-storage system, the Megapack, and S2A Modular's revolutionary Graphene solar panels mounted on covered car ports. The facility will eventually have the capacity to produce 5,000 homes, commercial buildings and other properties annually.
John Rowland, president and co-founder – S2A
"We are excited at the incredible opportunity to expand our operations and bring the GreenLux Revolution to Florida. And what better way to kick-off the new year than with the official groundbreaking of the Northern Florida MegaFactory. Baker County and the City of Macclenny have been incredible to work with, and we're excited to bring our electrically self-sustaining luxury smart homes to this region."
Cathy Rhoden, commissioner – Baker County
"It's a pleasure to welcome S2A Modular to Baker County and the city of Macclenny. The addition of its Northern Florida MegaFactory to our business community will have a substantial impact – generating hundreds of jobs for local Floridians, and providing affordable, eco-forward housing, and boosting the local economy. We're excited to continue partnering with businesses and entrepreneurs like this who will help make a big splash in our economic expansion."
Real Economic Impact. #GreenLux Brand Demand. Global Implications.
The establishment of a MegaFactory in Northern Florida is part of S2A's rapid expansion plan to build a total of 35 MegaFactories across the nation. S2A is engaging cities and municipalities with designated business development programs designed to incentivize and streamline the process for growing companies.
The impact is with S2A present within a region, home buyers and real estate developers will have ready access to higher quality, energy-efficient homes, hotels, multiuse facilities and commercial buildings produced in a climate-controlled factory using technologically advanced construction techniques. Economic development will be delivered from both the manufacturing facility, as well as the buildings that are manufactured there.
From single family homes, multifamily buildings, world-class hotels, commercial mixed-use buildings to specialized "SH1" buildings designed to tackle the homeless crisis in the United States, more than 5,000 GreenLux™ units are scheduled to be built in the next couple of years – with a large wave of new orders arriving daily.
###